We're an affiliate
Thank you for visiting our page. We hope our recommendations are helpful! Just so you know, we may collect a share of sales or other compensation from the links on this page. Thank you if you use our Inks, we really appreciate it!
The right bookcase arrangement can enhance the style of your interior design, taking it to the next level. Check our creative ideas to see how it works! Bookcases are not just pieces of furniture; they are the hearts of truly cozy home designs. To prove that, we've prepared the latest arrangement ideas for all styles and tastes. Dive in!
Bookcase Arrangements: Organize Your Stuff Fashionably
Although a bookcase might not seem to be the most crucial part of your apartment at first sight, with the right approach, such detail can tie everything up in your place. In fact, besides the main storage purpose, modern bookshelf arrangements can add more character to the interior design of your home, making it authentically complete and showing off your personal style.
Based on the style, decorations, and finishes of your place, you can find a creative way to organize your books in a modern and stylish manner. And today we will lend you a hand with tons of inspiration. Here, we've collected lots of unique and exquisite designer rooms to fit all tastes and preferences. Dive in, and, who knows, maybe you will come up with a classy bookshelf arrangement yourself.
Boat Bookcase Idea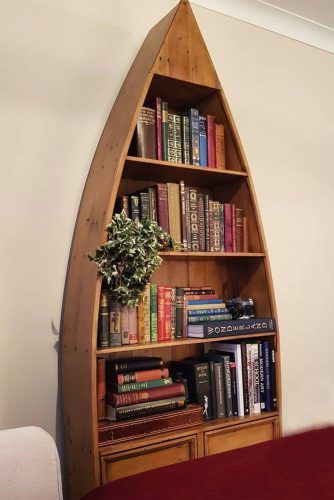 Credit photo: instagram.com/linda_cunningham_smith
Let's start by changing the common image of a wooden bookcase. This idea is here to show that decorations in Nautical style can be not only creatively customized but also budget friendly. If you live near the coast or simply have a canoe that is out of use for a long time, you can turn it into a creative furniture detail of your place. Paint the scratches with color that matches the main shade of the interior or leave it as it is: fake-old furniture never loses its charm.More from Home Decor
Wooden Ladder Design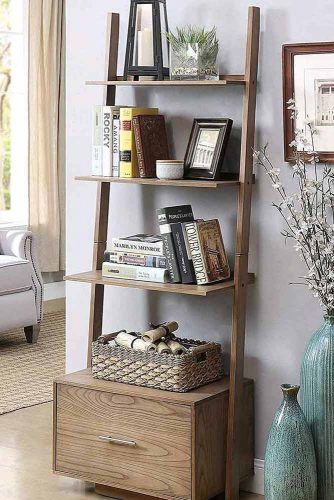 Credit photo: instagram.com/fest2shop
Ladder bookcases always come as pretty convenient options to organize the space in a minimalist-inspired apartment. Since it's no secret that every home has its oddly empty spaces, a wood ladder bookcase with metallic shelving units would be a nice way to sort things out. To add a visual rhythm, alternate your books with small plants and simple decorations.
Modern Wood Bookcase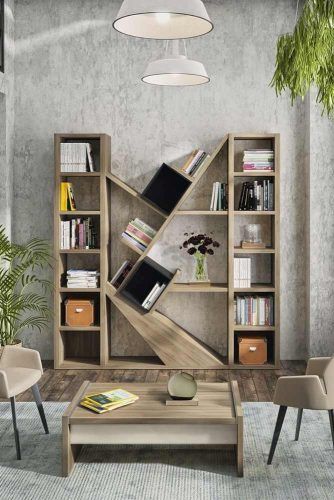 Credit photo: instagram.com/gautier_toronto
Simplicity meets practicality. In urban modern designs that take lofts as a basis, keeping the room visually big and functional are the very first aims. And a massive, firm, yet minimalist modern bookcase is the detail that can do the trick. The point is to let an eye rest with a minimum of objects, instead of not piling it up with all the books you have.
Bookсase With Glass Door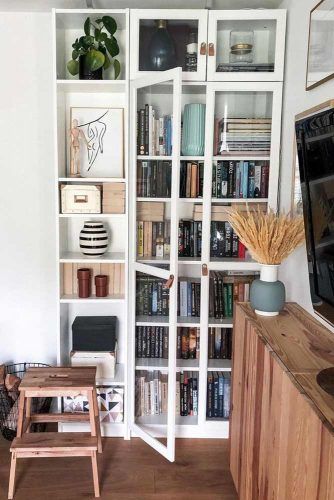 Credit photo: instagram.com/our_life_in_the_countryside
A bookcase with glass doors is probably the most versatile option. It comes in different colors and finishes to fit all designs while the glass door stands as a classic element that goes universally well with anything from rustic to rococo. Needless to say, it's a nice idea to showcase your aesthetic, music, and art taste: apart from books, you can store paintings and CDs in there. In other words, such a bookshelf design can be a reflection of who you are.
Asymmetrical Bookcase Design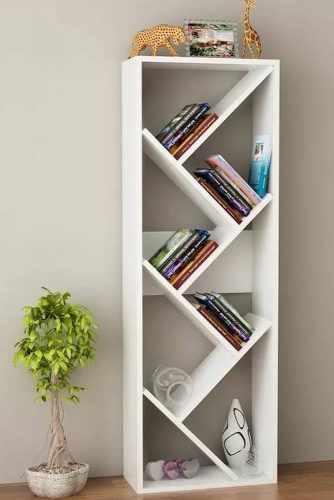 Credit photo: instagram.com/dekoroman_mebel
Nothing adds more interest to an apartment than a touch of imbalance. Of course, it won't come out right with such styles as traditional and mid-century. But, if it's about a clean-lined Scandinavian or industrial design, it would be a classy way of keeping your favorite things in sight.
Vintage Metal Bookcase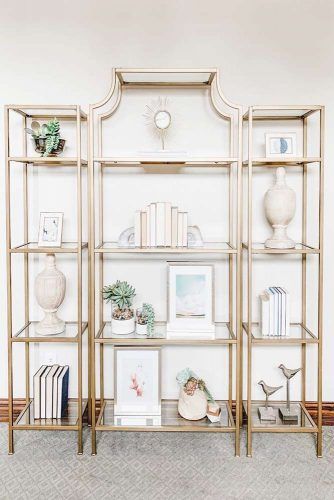 Credit photo: instagram.com/goldleaf_interiordesign
If your home is designed in the style of Shabby Chic that embraces sophisticated vintage elements with simple, neutral home interior, then a metal bookcase like this is a must. Not only is it very spacious but also extremely elegant and restrained. And it goes without saying that pastel candles, framed pictures, and cute figurines will be the best items to store in such a masterpiece.
Simple Metal Bookcase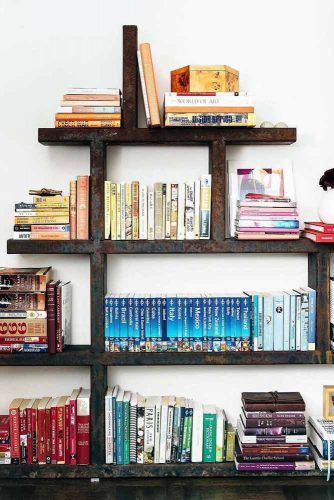 Credit photo: instagram.com/lisagalanodesign
One of the reasons why people go for industrial and urban modern styles for their apartment is how the simplicity of their elements reveals its beauty. The truth is, a simple small bookcase made of metal pipes of tubes and a flight of creativity is enough to organize your books perfectly. Make sure to create both horizontal and vertical piles and try putting them in a color-matching order to make it big.
Triangle Wood Bookcase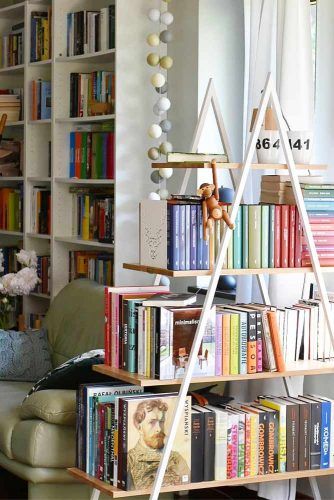 Credit photo: instagram.com/anny_dom_kultury
Geometric bookshelves, as well as bookcases, are universally suitable for all modern styles. Since most of them are focused on simplicity, you won't go wrong if you opt for a simple triangle 'case as it will not only fit in authentically but also let you show off plenty of books. Plus, you can also play around with the book arrangement: it's one of the most spacious shelving ideas.
Bookcase Headboard Design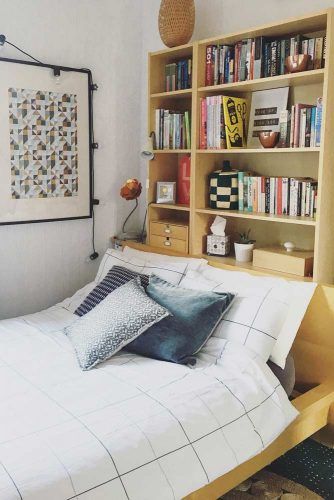 Credit photo: instagram.com/hashtag_this_girl_can
Many people associate their bedroom with a place where they can not just spend a night sleeping but to have some rest writing a diary or reading a favorite book. If you're one of such folks, you will love the idea of a bookcase headboard that keeps all your books and magazines right at hand. Besides, it's really easy to choose a design for it: it just should match the finish of your bed.
Under Stairs Bookcase Design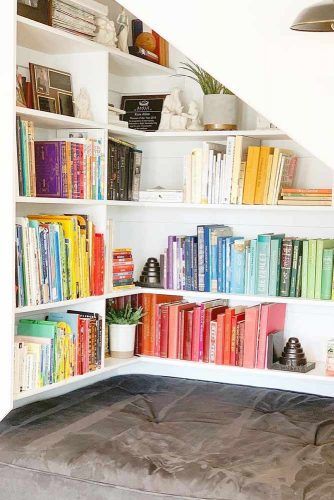 Credit photo: instagram.com/athomewithkaraallen
Nowadays, there's no better idea of filling the space under stairs than transforming it into a reader's corner. In this way, you can spruce up your place with a sense of coziness while providing yourself with a lovely place for a rest. The best way to making the idea of under stairs storage complete is to equip it with a built-in couch. Looks like a whole new room, huh?
Barrister Idea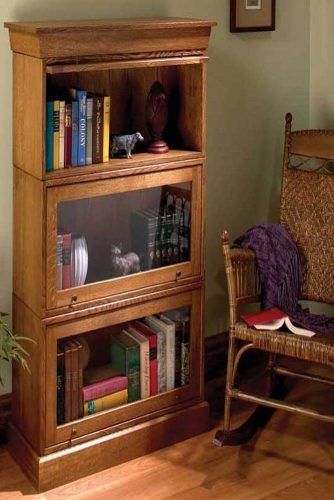 Credit photo: instagram.com/popularwoodworking
Those who are into traditional wooden interior styles can't imagine their place without a barrister bookcase. While being a piece of furniture, it actually sets the tone for the whole design when it comes to styles inspired by the 18th and 19th centuries. Its precise structure is pretty simple and predictable, which is a win for practical people. In general, it comes as a wood bookcase with doors, where shelf units sit horizontally. Also, it's better to go beyond just one storage case: instead of going for a big one, complement your place with a couple of medium sized 'cases.
Tall Bookcase In Classic Style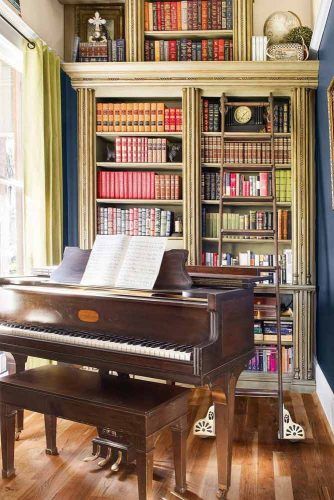 Credit photo: instagram.com/thisoldhouse
Another timeless classic that will never go out of style. As a number-one choice of people who respect traditions in every way, this type of bookcase combines pragmatism and fashionability at once. There's no need to mention that such a style is rather for old-fashioned people (in a good way), as more and more modern folks are switching to e-books. If you're classic to the bone and have a lot of books to store, putting it in such an exquisite 'case would be a fantastic choice.
Cubic Roller Bookcase Design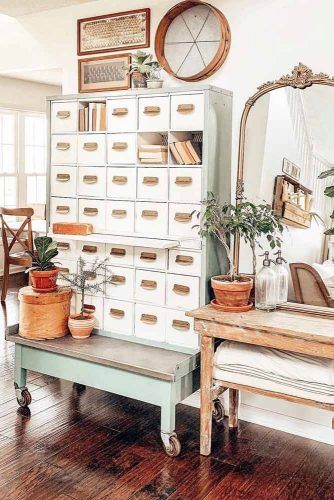 Credit photo: instagram.com/c.b._designs
Shabby Chic interior designs will never stop impressing us. Here, you can see how dynamically and harmonically vintage elements are combined with modern items. As for the cube bookcase, it's made in an ordinary design which looks unbelievably hip when combined with the rest of the decorations in this room. This white bookcase made of several storage blocks of the same size is an amazing option to store some important documents as well as books, notebooks and small devices you don't want to keep in plain sight. Neat, comfy, and functional.
Hidden Door Design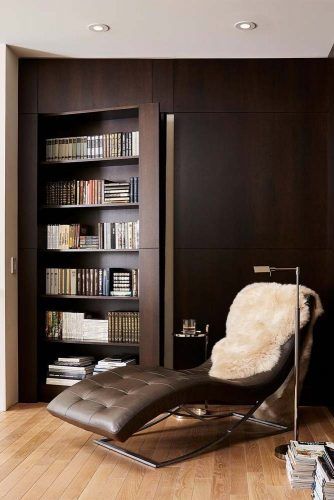 Credit photo: instagram.com/rena.feldman
According to contemporary designs, every single inch in space of your house is priceless, and optimizing it is nothing but a must. Such styles involve clean lines, minimal decor, and ever-evolving technologies used. And when bookcases may occupy a lot of the invaluable space, hidden door storage comes in. Even though the idea itself has been popular for hundreds of years, the contemporary takes at it do look different. Let's be honest, this idea has brought some metaphoric mood: just like a book that opens up a whole new world to a reader, a hidden door bookcase leads to another room.
Wood Corner Mandala Bookcase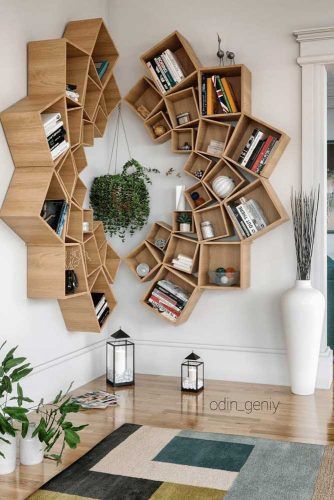 Credit photo: Credit photo:instagram.com/odin_geniy
For boho-inspired home designs, there's no better corner bookcase than a wood mandala. Bohemian style is usually light, patterned, and pretty spacious, which is a great canvas to creative imagination. Colorful geometric patterns and distinctive tile become even more authentic and balanced when a flower-shaped bookshelf complements the room. In contrast to traditional styles, you can put plants, books, sketches, small decorative statues, figurines, and whatever your soul desires!
Cover In Cubic Bookcase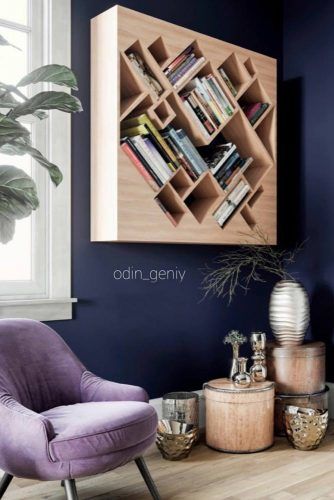 Credit photo: instagram.com/odin_geniy
Functional geometry is the latest thing in modern styles of home design. While in classic and traditional styles bookcases don't grab much attention, modern urban and contemporary styles strive for making details big. As you can see, everything in this room is harmonic and alive, but the most eye-catching element is still a hanging set of bookshelves, isn't it?
Industrial Bookcase Design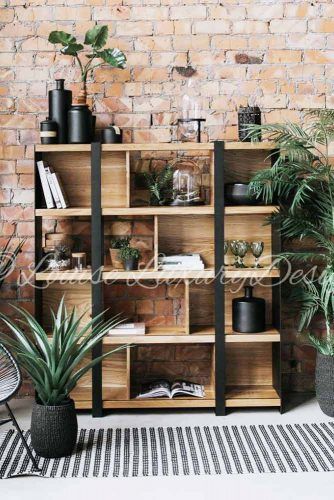 Credit photo: instagram.com/louiseluxurydesign
Industrial style is all about ravishing, surprising combinations of wood, metal, and plants. A couple of centuries ago, such a style would be called primitive or outrageous. Today, it's one of the most desirable patterns for home decor of all time. Well, not for no reason: all elements form an absolutely harmonic composition. When choosing a bookcase, don't forget about two simple rules: metal finish, wooden units.
Chair Bookcase Design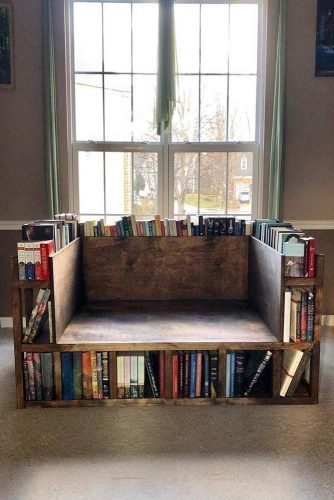 Credit photo: instagram.com/leonardswoodworking
Another mind-blowing idea of optimizing the space in your apartment. All in all, when you're about to lay on the couch, relax, and read a fascinating book, it's so amazing when it's literally at your fingertips. Home is the place where your heart is. Well, we bet that if this place has a chair where you keep your favorite books, it will definitely become the heard of your home.
Wall Mounted Colorful Modern Bookcase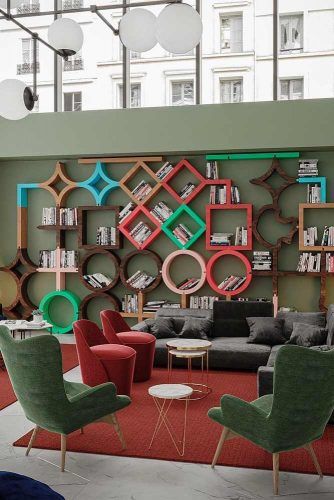 Credit photo:instagram.com/odin_geniy
Arched White Bookcase Design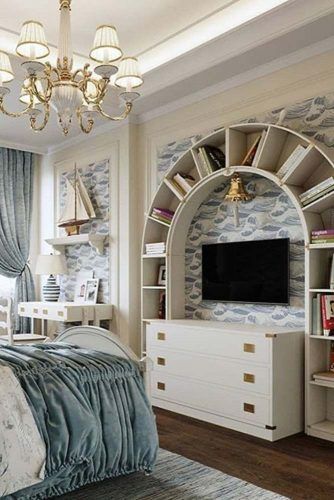 Credit photo: instagram.com/caroti_and_co
Vintage Design With Secretary Desk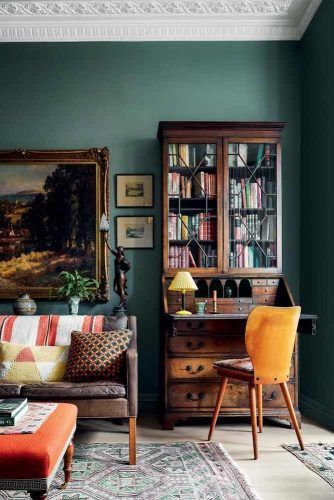 Credit photo: instagram.com/houseandgardenuk
Cubbies Design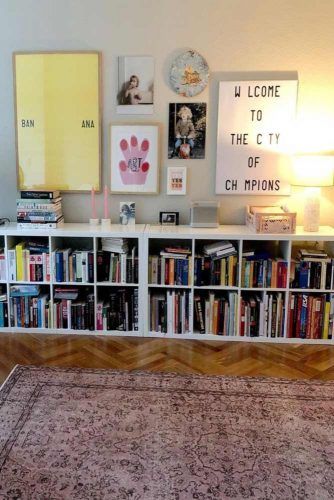 Credit photo: instagram.com/lillastudios
Wall Mounted Tree Design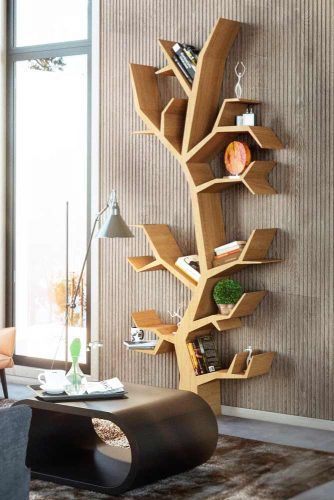 Credit photo: instagram.com/odin_geniy
Build In Wall Bookcase With Cabinets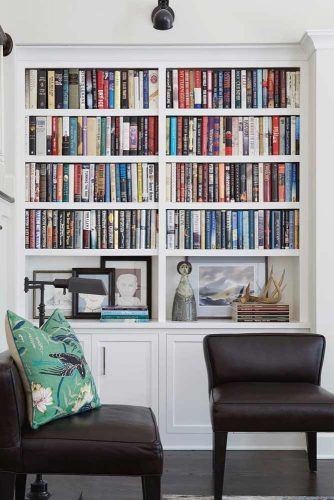 Source: instagram.com/peabodysinteriors
A bookcase is an irreplaceable detail of home design not only for its main function of storing stuff but also for its role in the design ensemble. And today's ideas are living proof for the importance of choosing the right bookcase arrangement. Also, they're a real source of inspiration, as every single pic is an example of the latest home decor choice. Now, have a look around: it's it time to freshen things up in your place?
Article source: Glaminati.com